The Comprehensive Eye Exam
Your eyesight is precious. Don't take it for granted.
Many people often think that they should see an eye doctor only when they have blurry vision or eye discomfort. Depending on how often symptoms occur determines how often they get a comprehensive eye exam.
Unfortunately, if comprehensive eye exams are only performed every 2-3+years, many sight-threatening conditions can be missed.
In eyecare, as in all healthcare, prevention, and early diagnosis is crucial.
Here is a list of conditions that, when found early, lead to much better outcomes:
At Good Life Eyecare, we recommend everyone from ages 6 months to 99+ years receive an annual comprehensive eye exam. Why? Because eyesight is precious.
The annual comprehensive eye exam includes a thorough examination of the eyelids, the front surface of the eye, the internal structures of the eye, and the internal surface of the eye to find and prevent sight-threatening eye diseases.
In addition to the conditions above, the annual eye exam also includes recommendations for cataract or Lasik surgery, consultations for headaches and eye misalignment (aka vision therapy), and recommendations for specialty contact lenses for hard-to-fit patients.
And of course, prescriptions for eyeglasses and fitting for contact lenses can be performed as well. But, as you can see, there is much more to an eye exam than a new prescription for glasses or a renewal of contact lenses.
Here is a visual we use at Good Life Eyecare to show everything we evaluate at our annual exam: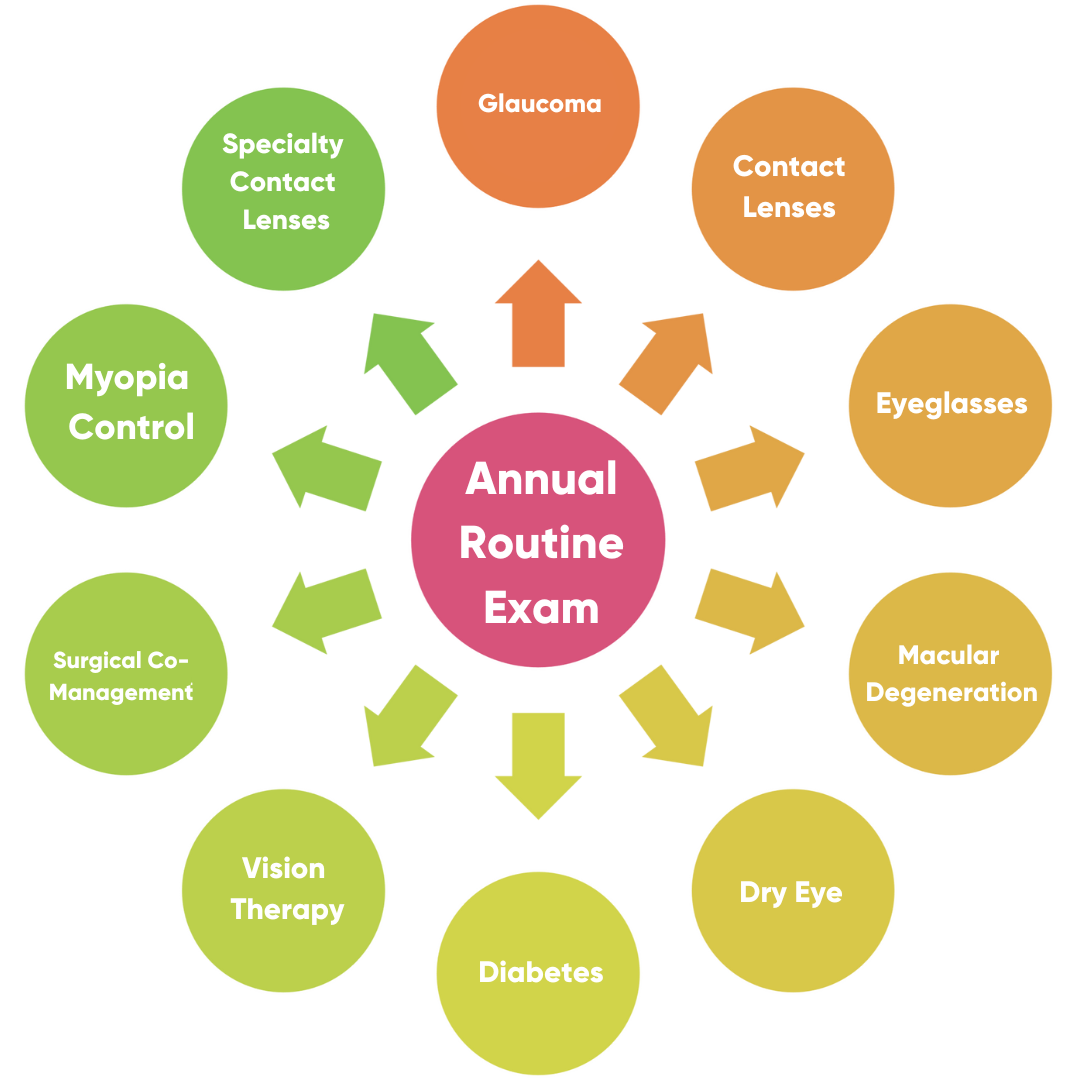 It is a lot. It is incredibly thorough. But again, Eyesight is Precious. We help our patients make the best decisions about their eyes so they can keep their eyes healthy for life.
Schedule your next exam with us and we'll help you make the best decision for your eyesight!
The content on this blog is not intended to be a substitute for professional medical advice, diagnosis, or treatment. Always seek the advice of qualified health providers with questions you may have regarding medical conditions.